STAFF
Kendra Chiu

Executive Director
Brooklyn native Kendra Chiu brings over 12 years of experience in nonprofit work, volunteer organizing, and education to the North Brooklyn Angels. Before joining the Angels, Kendra was the Senior Director of Grants and Communications at Outreach, a behavioral health not-for-profit that provides treatment and training services throughout the greater New York Metropolitan area. At Outreach, she grew to oversee the acquisition and management of philanthropic and government grants, communications, program evaluation, and government relations. Passionate about mentoring, Kendra also served as an adjunct professor at St. John's University for incoming freshmen for nine years, and was a "Big Sister" volunteer mentor at Big Brothers Big Sisters of NYC for ten years before her mentee aged out and became a college freshman. Her volunteer role at the organization also involved five years of building and leading a young professionals committee that focused on mentor recruitment and fundraising, efforts that earned her a Community Excellence Award from the National Association of Asian American Professionals, and the Hall of Fame award from Big Brothers Big Sisters. Kendra received both her Master and Bachelor of Arts in Sociology from St. John's University, and is a proud graduate of the 2018 cohort of the New York Community Trust Leadership Fellows Program.
Felice Kirby

Director of Partnerships and Special Projects
Felice Kirby has been in Williamsburg for 4 decades. Originally hired as a professional community organizer to fight property & business abandonment, Felice eventually became co-owner of Teddy's Bar & Grill, managing the popular community spot until its sale in 2015. Based on her community organizing experience in the South Bronx, Queens & North Brooklyn, Felice spent 15 years employed as a trainer & lecturer in collaborative problem-solving & community policing, training with the NYPD, Harvard Kennedy School Executive Sessions & 24 other municipal agencies. She is also involved locally, with cherished community organizations: NAG (Neighbors Allied for Good Growth), Greenpoint Chamber of Commerce, Brooklyn Allied Bars & Restaurants, and The People's Firehouse. Felice lives with her family on N. 8 St.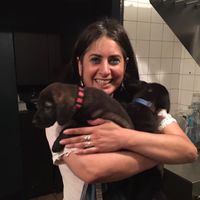 Anjali Suneja

Kitchen Manager
A veteran of the North Brooklyn community, food business, fashion and art worlds, Anjali Suneja joined North Brooklyn Angels as a part-time kitchen coordinator in June 2021 by happenstance, becoming a full fledged Kitchen Manager for the Angels in March 2022. Anjali brings with her an accomplished history of leadership in renowned Brooklyn establishments: Union Pool, Commodore, Pies 'n' Thighs, to name a few, as well as serving as a founding shareholder of Roberta's. Alongside her career as a pizzaiola, Anjali also co-founded and operated a nonprofit after school program, Step Right Up. As a teaching artist, she provided arts programming for children in New York City's in-need communities. A veteran resident of North Brooklyn for 22 years, outside of the Angels, Anjali can be found working on voice over projects, spending time with her family in Philadelphia, swimming at McCarren Pool, body surfing at Rockaway Beach, and sharing with volunteers the happenstance story that brought her to the Angels.
BOARD
If you are interested in applying to be a member of our board of directors, please send a letter of interest and resume to northbrooklynangels@gmail.com